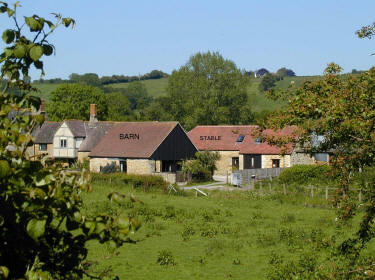 Castle Cary, Somerset, West Country, England.
In lovely countryside, less than two miles from the town, we offer two self-catering holiday
homes sensitively converted from ancient farm buildings.
They have English Tourism Council four-star ratings.
A mile away in Castle Cary itself we have another delightful historic cottage.

The Ancient Barn

For those who appreciate a truly historic experience, this is the place for you. Our lovely 15th century Ancient Barn has a dramatic, lofty, heavily beamed living space and two bedrooms.

Across a yard, close but completely separate, the 17th century Old Stables is a high-quality three-bed-roomed conversion. Both buildings are part of a very special medieval farmstead set in pretty unspoilt countryside. The Old Stables offers wheelchair access.


The Old Stables


The Weaver's Cottage

The Weaverís Cottage is a mile away from the other two and is in a conservation area in the delightful old market town of Castle Cary with its interesting shops and pubs.

All three homes are Grade II listed buildings and offer original features with every modern comfort.

Castle Cary